Botox/Dysport
All lines lead here!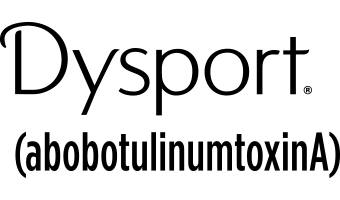 What is abobotilinumtoxinA?
Move toward a natural look. Wrinkles aren't your style and "frozen face" isn't either. For adults who want a natural look, a prescription injection proven to help smooth the appearance of moderate to severe frown lines without changing the look or movement of the rest of your face. Untreated muscles still work normally, so you can continue to express feelings naturally. It's the lines that disappear, not your expressions. *Includes therapeutic and aesthetic uses
How does it work?
AbobotilinumtoxinA teats moderate to severe frown lines by reducing specific muscle activity. Wrinkles are caused by repeated movements and muscle contractions, which means they can even develop in younger adults. One injection into each of 5 points between and above the eyebrows temporarily prevents muscle contractions that cause frown lines, leaving the rest of your face to move naturally. In other words, no frozen face, just natural-looking results. You can control your look instead of your look controlling you.
How long does it last?
Forget frown lines for up to 4 months. You've got better things to do than think about what your forehead wrinkles look like. In just one 10-20 minute treatment, may help improve the look of your frown lines for up to 4 months.† The majority of patients see improvement in just 2–3 days after treatment, may take up to a week. Another plus? There is little to no downtime after your treatment, which means you can get back to your day faster.​
Call 267.687.4437 to request an appointment in our Center City location. Or call 484.237.2432 for our Exton location!
OUR FULL COSMETIC SERVICE OFFERINGS
Brown Spots
Rosacea/Redness
Voluma
Botox/Dysport
Excessive Sweating (Hyperhidrosis)
Restylane Lyft
Restylane
Restylane Silk
Restylane for Men
Sculptra Aesthetic
Kybella
Hair Restoration – PRP