About Us
At Center City Dermatology we do more then just treat your skin. In addition to providing you with a comprehensive and customized treatment plan, we strive to educate our patients about the health of their skin. Having a better understanding of how to take care of your skin and a personalized regimen to use at home, your skin will be set up for success!
STEPHEN D. HESS, M.D., PH.D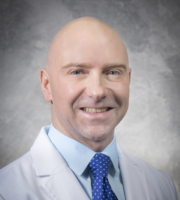 Stephen D. Hess, M.D., Ph.D. is a board-certified Dermatologist with extensive experience in all aspects of medical, surgical, and cosmetic dermatology. Dr. Hess completed his dermatology residency at the University of Pennsylvania, one of the top-ranked dermatology training programs in the country. While at the University of Pennsylvania, Dr. Hess also completed a one year fellowship in cutaneous oncology which allowed him to develop additional expertise in the diagnosis and management of skin cancer. He received comprehensive training in pediatric dermatology at the Children's Hospital of Philadelphia. Dr. Hess has been practicing in the Philadelphia / South Jersey region since 2008.
A native of Buffalo NY, Dr. Hess graduated from the State University of New York at Buffalo School of Medicine where he earned both his medical degree (M.D.) and a doctorate (Ph.D.) in Immunology at the Roswell Park Cancer Institute. He completed his undergraduate education at Wake Forest University in Winston-Salem, NC.
Dr. Hess has published extensively in top medical journals in the fields of dermatology and oncology, and has lectured at numerous local and national meetings. He is a member of the American Academy of Dermatology (AAD), the American Society for Dermatologic Surgery (ASDS), the American Society for Mohs Surgery (ASMS), the Pennsylvania Academy of Dermatology (PAD), and the Philadelphia Dermatologic Society. Dr. Hess is also a Clinical Associate of Dermatology at the University of Pennsylvania, where he is involved in teaching dermatology residents and medical students.
Dr. Hess is currently accepting new patients. He is committed to providing the highest quality medical care in a patient-friendly environment.
THUY-VAN TINA HO, MD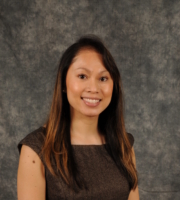 Dr. Tina Ho is a fellowship-trained facial plastic and reconstructive surgeon and board-certified head and neck surgeon. She attended the College of William and Mary as a 1693 Scholar. Dr. Ho then received her medical degree at the University of Virginia. She matched into the highly competitive specialty of Otolaryngology – Head and Neck Surgery and completed a five-year residency at the University of Kansas Medical Center. Dr. Ho then pursued a fellowship in facial plastic and reconstructive surgery at the University of Illinois in Chicago and trained under world-renowned leading authorities in rhinoplasty, aging face surgery, and injectable procedures.
Dr. Ho has childhood roots in the suburbs of Philadelphia and is proud to return and practice locally as Philadelphia's female facial plastic surgeon. She is a member of the American Academy of Facial Plastic and Reconstructive Surgery and the American Academy of Otolaryngology – Head and Neck Surgery. As a female facial plastic surgeon, Dr. Ho upholds an approachable, relatable relationship with her patients and empowers them with beautiful, natural results. Dr. Ho is a face specialist and specializes in injectable treatments as well as surgery procedures.
SAMANTHA COLOSI, MS, PA-C
Samantha Colosi, MS, PA-C, was born and raised in Southern New Jersey. In 2013, she completed her undergraduate studies in Malvern, PA, where she received a Bachelor of Science in Biology from Immaculata University. In July of 2015, she graduated from Philadelphia College of Osteopathic Medicine with a Master of Science in Physician Assistant Studies. Samantha specializes in medical and cosmetic dermatology, treating both children of all ages and adults. Samantha treats a variety of skin disorders including skin cancers, hair loss, acne, rosacea, warts, seborrheic dermatitis, psoriasis, and eczema. She also enjoys cosmetic dermatology where she can use her artistic talents to get patients the results they desire. Samantha is well known for her non-surgical techniques using Botox/Dysport and softi-tissue facial fillers such as Juvederm and Restylane. Lip fillers, in particular, have become one of her specialties and most sought after procedures.
Samantha is board certified by the National Commission on Certification of Physician Assistants and is registered in the states of Pennsylvania and New Jersey.
Stephanie Slaski, MMS., PA-C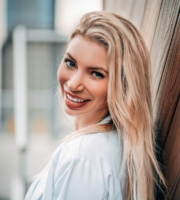 Stephanie Slaski joins our team as a board-certified physician assistant in which she has been practicing dermatology since 2014. Stephanie earned her Bachelor of Science degree in Biobehavioral Health from Penn
State University where she graduated with Highest Distinction Honors. She then went on to earn her Master of Medical Sciences degree from Salus University in Philadelphia, PA where she graduated Magna Cum Laude. Upon passing her boards, she trained and worked alongside the Midwest's most well-renowned dermatopathologists, Mohs surgeons, cosmetic and general dermatologists in Columbus, Ohio. During this time, she also served as a clinical preceptor for physician assistant students, while also teaching dermatology to first year physician assistant students at Ohio Dominican University. While she has had the privilege of serving thousands of patients in the Midwest, Stephanie is thrilled to be back home on the East Coast and to have the opportunity to provide dermatological care to the community where she was born and raised.
Stephanie is proficient in diagnosing and treating a myriad of dermatologic disorders among pediatric, adolescent, and adult patients including skin cancer screening, detection, and treatment, eczema, warts, psoriasis, and rashes. Although she loves all aspects of dermatology, Stephanie takes special interest in the treatment of adolescent and adult acne. Treatment plans are customized and tailored to each individual patient, while always taking the time to address and prioritize your individual concerns and goals throughout your journey to clear skin.
In addition to specializing in acne, Stephanie has a focal interest in performing cosmetic procedures (Botox®, Dysport®, hyaluronic acid fillers, and Kybella). She takes great pride in practicing the mantra that the best cosmetic treatment is a natural enhancement and keeps you looking like the best version of you. This, combined with Stephanie's specialized individual approach to each patient, expertise in the latest aesthetic advancements, artistic eye, and commitment to safety, make her the trusted choice for your aesthetic needs in Philadelphia and Downingtown.
Whether you are struggling with acne, concerned about your moles, or have an interest in pursuing cosmetic procedures, Stephanie is committed to providing the highest level of dermatological care within a pleasant and compassionate environment.
When not practicing medicine, Stephanie enjoys weekends in Avalon, Penn State football, horseback riding, and traveling. She truly loves her career as a dermatology physician assistant and looks forward to caring for you and catering to your skin care needs!
Brittany L. Rentz, MSN, CRNP, FNP-C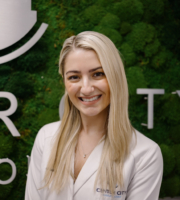 Brittany was born and raised in Bucks County, Pennsylvania and has been living locally in the City of Brotherly Love for the past several years. She joins us with seven years of experience in the Intensive Care Unit at the world-renowned Children's Hospital of Philadelphia where she governed and chaired a patient safety committee and served as a preceptor and mentor to her nursing colleagues. Brittany graduated Magna Cum Laude with her Bachelor of Science in Nursing degree from the University of Pittsburgh and then went on to receive her Master of Science in Nursing degree from Thomas Jefferson University as a Family Nurse Practitioner. Brittany is registered as a Certified Nurse Practitioner through the American Academy of Nurse Practitioners.
Brittany has a special interest in dermatological care and strongly believes in providing individualized care to fit each patient's unique needs and diagnosis. She specializes in treating a multitude of dermatologic conditions in both children and adults, including skin cancer, acne, psoriasis, rosacea, and atopic dermatitis. She focuses her visits on treating the patient, not just the diagnosis, and recognizes the importance of establishing trust and comfort when discussing a patient's needs and building a treatment plan. Brittany's goal is to provide a safe environment for her patients to openly and comfortably discuss their dermatological needs. Brittany enjoys treating patients and families throughout the lifespan and fine-tuning treatment to optimize a patient's quality of life.
Brittany also specializes in surgical and cosmetic dermatology including surgical excisions of atypical moles/skin cancers/cysts, biopsies, and assessing/administering botulinum toxin injections (i.e., Botox® and Dysport®) She strives to provide high-quality cosmetic outcomes whether she is excising a skin cancer or removing a cosmetically distressing lesion.
Brittany is thrilled to be a member of our CCD team and looks forward to treating you!
CHELSEA DIPILLA, AESTHETICIAN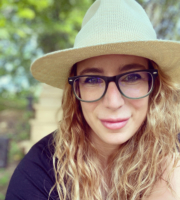 Chelsea DiPilla is passionate about skin care. Following her studies at Rizzeri Aveda School, Chelsea furthered her education at the International Dermal Institute, Dermalogica, completing their expert program. From a small day spa, to a big casino and hotel spa, dermatology offices and now in Dr. Hess's dermatology practice, Chelsea has been fortunate to work as an aesthetician in a variety of venues.
This profession allows Chelsea an excellent arena to integrate her interests, aesthetics toolsets and the interpersonal skills she has honed over the years. It caters to her artistic nature, desire to be of healing service and drive to be on the cutting edge of the industry.
Chelsea also is the owner and operator of i.m. Walrus, an eco-friendly company that manufactures body and home products. Her philosophy of living on the bridge between science and nature, partnered with her fierce desire to learn makes her a leader in the skin care industry.
Her passion is also found in the arts, as a professional actor and singer, as well as a producer for a special events company called A Saturday's Child. She also donates time and energies to the Don't Bully Us Rescue.
Chelsea DiPilla sees the world as a beautiful place, making people feel good about themselves by practicing skin care and spreading a little hope. She believes it as the great Bob Marley said, 'One Love.'
Call 267.687.4437 to request an appointment in our Center City location. Or call 484.237.2432 for our Exton location!
Financing Available