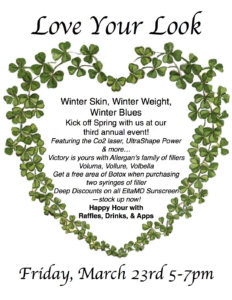 ~Botox BLOW OUT! $10 a unit!
~Enjoy $100 off every syringe of FILLER
~With purchase of two syringes of filler, add on a session of Kybella for $799 (Saving $399).
~Introducing our CO2RE Fractionated CO2 Laser by Syneron Candela $1300, (Saving $200)
~Purchase a package of 3 VIVACE for $2100 and receive complimentary neck treatments as well valued at $900.
~Sente March Madness – Purchase Dermal Repair & Bio-Complete, get 50% off ATP Reset or Eye Cream or BOTH!
~EltaMD ALL sunscreen 30% off
~Summer Glow with St. Tropez 30% off with a free mitt, while supplies last.